What is California Bill SB-403
Introduced by Senator Aisha Wahab and Coauthored by Assembly Member Baines SB403 purports to ban the discrimination on the basis of caste by modifying the existing law, the Unruh Civil Rights Act.
SB403 would additionally provide that all persons within the jurisdiction of the state are so entitled regardless of their caste, as defined.
Where can I find the text for SB403
The full text of SB403 along with the amendment(s) is available here:
Why does HinduPACT Oppose SB403?
Here are six key reasons why HinduPACT opposes SB 403:
The Bill presents a convoluted and broad definition of "caste."  The definition of "caste" in this Bill makes every person of Indian subcontinent and businesses run by them suspect of discrimination, including those who practice vegetarianism!
The Bill perpetuates the colonial narrative of "caste," introduced by Portuguese and promoted by British colonialists.
This bill will lead to harassment, discrimination, bullying and violence against Hindus.
The promoters of "caste" narrative, have malevolent intentions as demonstrated by their public statements.  One statement, for example, says, "Hindus are sick people of India, it is their religious books who train the mind."
This Bill is built on unsubstantiated data and an unproven court case.
All of us are against discrimination of any kind, and we believe that existing laws are sufficient.
There is ample evidence of Hinduphobia by those who have contributed the "caste narrative" in the US and whose machinations have led to this CB. 
For example,
Thenmozhi Soundararajan has accused Yoga of religious abuse and having structural violence at the heart of it: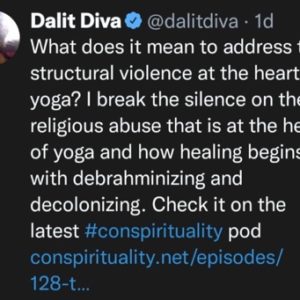 Anti-Hindu and anti-Indian Pakistani American Huma Dar and her daughter Natasha have been closely associated with Equality Labs:
Equality Labs has close ties with Hinduphobic group Indian American Muslim Council (IAMC):
Equality Labs founder Ms. Soundararajan has held event with Sikhs For Justice, a banned group in India.
Equality Labs has made its Hinduphobia explicit by maligning the most prominent Hindu, Sikh, Jain and Buddhist festival of Holi.  This is no different from asking Muslims to not celebrate Eid or Christians to not celebrate Christmas and Jews to not celebrate Hanukah 
A cofounder of Equality Labs Sharmin Hossain who is a non-practicing Hindu, much less a Hindu social activist or a scholar, has clearly demonstrated her Hinduphobia in the following tweet: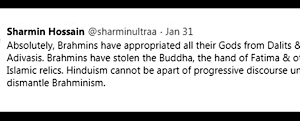 Are you satisfied with the amendment bill?
HinduPACT opposes the amended SB-403.  Here are some of the reasons:
Objections to Revised SB403:

1. The Bill still attempts to define "caste."  We contend that "caste" is a Portuguese term and it is a British colonial imposition.  We also contend that attempting to define caste is intended to segregate Hindu Americans and those of Indian Subcontinent origin and mark the Hindu children, businesses and employees for discrimination.

2. The law is still not applicable to all Californians.  It is selectively applicable to Hindus and people of Indian Subcontinent origin.  Therefore, it continues to violate the 14th Amendment to the US Constitution.  For reference, the 14 th. Amendment states
No State shall make or enforce any law which shall abridge the privileges or immunities of citizens of the United States; nor shall any State deprive any person of life, liberty, or property, without due process of law; nor deny to any person within its jurisdiction the equal protection of the laws. 
3. The assertion in the Bill about "caste" discrimination in the workplace has never been proven.  In fact, the only lawsuit on the issue, against CISCO engineers claiming caste discrimination has now been dismissed.
4. The current laws, especially the Uyghur California Civil Rights Act provides civil rights protection to all the State residents
How does SB-403 impact my family
SB 403 will have a direct and dire impact on the Hindu identity, Hindu culture, and the Hindu way of life.  The proponents of SB 403 have overtly exhibited their disdain for Hindus. 
Here are a few most likely fabricated "testimonials" from the proponent of this Bill which clearly indicates how most common Hindu practices such as saying Namaste, performing classical dance and vegetarian food are now being branded as "Castist."  This means that the Hindu children, businesses and employees will be vilified for their way of life and faith-based practices. 
 1. Attack on Classical Dance –
"Classical Dance is "Co-Opted For Hindu Traditions" 
"The tradition of Kathak dance has both Hindu & Muslim cultural elements, but while I was a student at a prominent school for Kathak dance in North America, which was under the management of Savarna women, I noticed that 1. The teaching of Kathak was attached to the teaching of aspects of Vedic Brahminism such as learning to chant 'sholkas' or verses in Sanskrit. "
2. Making Vegetarians feel castist guilty
"I have colleagues who are vegetarians. They claim that they don't have any issues with me having meat at the lunch table, but when I eat meat meat for luch, they show their disgust by making 'tolerating face' expressions."
3. Attack on the core Hindu practice – "Don't dare to say Namaskar!" 
"On the employee slack channel, a brahmin employee posted an image praising the practice of saying "namaste" as a greeting. The post compared the chance of bacterial spread occurring during different forms of greetings. It claimed that Namaste was the best way because it had zero chance of bacterial spread, while ignoring the context that this is a casteist practice rooted in untouchability."
4. Making Hindu kids feel guilty for academic excellence – "Math Competitions brings out casteists"
"When I went to Cupertino schools to inquire about Math and Science Olympiad teams, I found that most of these were dominated by brahmins. These brahmins are well-established, have close rapport with teachers and run the show disguised as volunteers."
5. Where you prefer to shop can make you casteist – "patronize a Pakistani Business"
"I felt that my cousin developed hatred towards a shop based on a flimsy reason. Though my cousin has been in the US for a while, his Brahmin mentality is not to accept cultures and religions that are not his own."  
How will SB-403 affect me as a tech worker?
Two CISCO engineers where accused of caste discrimination. They endured accusation of discriminating a dalit employee on the basis of caste and subsequent lawsuit for over six years before the lawsuit was dismissed against them on April 12, 2023
Their ordeal is documented here
Equality Labs, a hate group which has targeted Hindus and Hindu practices has tried to push it's unproven caste discrimination narrative in many Silicon Valley companies.   
If SB 403 is not defeated, you can expect Equality Lab and other hate groups to promote their hateful narratives wherever Hindus are professionally successful.
Aren't the existing civil rights laws adequate to ban all discrimination?
The existing law in California provides that: 
all persons within the jurisdiction of this state are free and equal, and no matter what their sex, race, color, religion, ancestry, national origin, disability, medical condition, genetic information, marital status, sexual orientation, citizenship, primary language, or immigration status are entitled to the full and equal accommodations, advantages, facilities, privileges, or services in all business establishments of every kind whatsoever."
We believe that these existing laws are sufficient to address any instance of discrimination without singling Hindus or citizens of Indian Subcontinent origin.
How do I express my opposition to SB 403
I keep hearing about a survey that shows rampant caste
What is your position on the "Caste System"
The word "caste" is of Portuguese origin (Casta – 'lineage, race, breed') was invented as a tool of racial discrimination against the converted Jews. It was seen to maintain racial and genetic purity of the Spanish and Portuguese Christians.   Subsequently, it was used to categorize diverse professional guilds in Asia by European colonial powers in the 18th century, mirroring those that existed in late 16th century Europe.  There is no reference to the concept of "caste" either in any of the canonical scriptures or in any other religious or philosophical school that originated in the Indian subcontinent.  This bill will perpetuate racist European stereotypes and misconceptions about people of Indian Subcontinent. 
Our detailed position on "caste" is articulated here
Do you have simple to distribute infographics on this bill?
We indeed do!  Please check this out