June 28, 2021
In pursuance of HinduPACT USA's objectives, the Ohio Chapter organized a lunch meeting with Ohio's Congressional District 1 Republican Congressman Steve Chabot on June 28, 2021, at Indian Spice Train restaurant in West Chester, Ohio. Congressman Chabot is Co-chair of India Caucus in the US House of Representatives. Chrissy Haslam, one of the Congressman's assistants, also attended the meeting. 
Renu Gupta, Vishakha Manek and Pramod Jhaveri organized this event with support of others. Pramod ji, a Councilman and Deputy Mayor of City of Blue Ash, was instrumental in getting the appointment with Congressman Chabot.
Vishakha ji welcomed Congressman Chabot and thanked him for coming. In her welcome address, she highlighted the multi-faceted positive contributions Hindus have been making to the American society ever since their arrival in USA. Hindus have always been law abiding, peace loving, patriotic citizens and have excelled in every field of endeavor, particularly science and technology. There are certain issues Hindus are facing now which need to be addressed urgently and require attention of the politicians and government authorities. Vishakha ji highlighted some of the issues such as bullying in schools, negative portrayal of our culture & philosophy in school text books and lectures, Hindu phobic teachers and professors, etc. She suggested that funding of any school, college or university propagating Hindu phobia should be stopped. She also talked about hate crimes against Hindu Temples and other organizations and that the Homeland Security, Justice Department and FBI work closely with these organizations in order to provide protection. She also brought the issue of 80% of highly skilled Hindu immigrants who are waiting to be issued Green Cards due to extended delays in processing times. Renu ji was then invited to speak regarding the immediate issues on a non profit organization called IMANA who has raised over $20 million and the money has been siphoned off to fund terrorist groups.
Renu ji, is one of the Executive Directors of HinduPACT USA and President of the Ohio chapter, made a presentation about HinduPACT USA. PACT stands for Policy Research and Advocacy Collective. She said that HinduPACT USA was a non-partisan non-profit 501c entity. It is establishing chapters in various parts of the country. Renu ji explained the organization's purpose and goals, and highlighted some of its activities, such as interaction with politicians on non-partisan basis, interaction with public, media etc., to correct the misinformation about Hindus being spread by Hindu phobic groups.


A few examples were cited by Renu ji to show how Hindu phobic groups were continuously trying to defame Hindus and spread Hindu phobia by using falsehood and distorted facts. One example she presented is that in some cities, they are passing resolutions against India's Citizenship Amendment Act (CAA), claiming it was discriminatory to Muslims. 
This group's purpose is to defame India, its Hindus and implicitly American Hindus by portraying them as intolerant and discriminating against Muslims, while knowing fully well it that it is not true. 
Another example she cited was a county in California passing a resolution outlawing discrimination by high caste Hindus against low caste Hindus, while knowing fully well it is not factual. 
Again, the purpose is to defame and denigrate American Hindus.
Renu ji talked about a recent incident where a non profit organization called IMANA, which is run by Muslims, collected about 20 million USD in the name of providing relief to India for Covid19 victims, but apparently sent all the money to Pakistan for terrorism and radicalization activities. She gave a dossier about this scam prepared by Utsav Chakrabarti, Executive Director of HinduPACT USA to Congressman Chabot, urging him to work with the Department of Justice to initiate an investigation. Congressman Chabot agreed that 20 million was a lot of money and promised to give the dossier to his staff for further action.


In her ending presentation, Renu ji stated that Hindus did not attack any groups and followed the philosophy of live and let live, however, because of the continuous hateful attacks across our country, HinduPACT and sister organization's are being forced to take actions to defend the truth.
Congressman Chabot in his address stated that he was very familiar with Hindus making incredible contributions to the American society in all fields. He said that this meeting had initiated the process of interaction and he would always be available to work with us to address whatever issues we had. 


As Co-chair of India Caucus, Congressman Chabot works closely with his Democratic counterpart to improve US-India relations in all spheres. He has been to India many times and likes his interactions with the people there. Congressman Chabot stated that the Covid-19 pandemic had made USA realize that China was not trustworthy and that USA and India were the two of the greatest democracies in the world, has the same value systems, thus 
we are natural partners. He is working hard to shift the supply chain from China to India, as it would be good for both countries.
A number of other important issues were brought forward to Congressman Chabot's attention.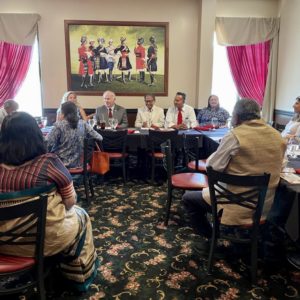 One was a continuation of Vishakha ji's initial issue regarding immigration and green card. There are numerous cases where a green card has been approved, but there is a long waiting time for it to be issued. Recognizing the high qualification, talent and desirability to retain the applicant, employers send him/her abroad lot countries like Canada or Europe, to work from these countries until the green card is issued. It causes unnecessary hardship to the applicant and their family. Also, there is always the possibility that the applicant may decide to settle in the host country, in which case US loses a highly qualified, talented person. Congressman Chabot said he was very well familiar with this issue and had been working for some time to increase the annual quota for India.
The other issue brought to his attention was Muslim jihad in Europe and England. Unless action is taken now, negativity is bound to happen in the US also. It is not a Hindu issue, it is a national issue as it threatens our nation's security. 
It was urged that the Congressman have his staff find details about what is going on in Europe and England and start a political dialogue to prevent the negativity from happening in the US. The larger American population may not realize the looming danger to our nation, since radical Muslims behave like angels as long as their numbers are small, however their real face comes out only when their numbers become significant, as witnessed in Europe and specifically England. Congressman Chabot agreed and said that politicians were concerned about it, but, because of political correctness, many did not want to talk about it in public. 
Closing remarks were presented by Vishakha ji at the conclusion of the program, Congressman Chabot was thanked for attending, in spite of his tight schedule and wishes his wife's a speedy recovery from her recent surgery were conveyed. 
Over twenty five people attended the meeting. Members of HinduPACT USA Ohio Chapter from Cincinnati and Dayton and members of VHPA Cincinnati Chapter participated. Also, Neil Patel from Columbus, Ohio along with couple of his campaign team members attended. Need Patel is contesting for the Republican nomination for the Senate seat that is being vacated next year by the current Republican Senator, 
Rob Portman. 
This was first of such activity by the Ohio Chapter of HinduPACT USA. It was a successful event. More events like these will be held on a routine basis with various politicians of all major political parties.